You're already planning

an incredible wedding, so why not make your honeymoon the stuff that dreams are made .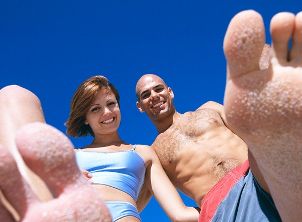 Narrow down possible choices.

Make a list of pros and cons about the various

honeymoon destinations you like and begin to make a decision.

Consider the season in which you'll be getting married and how much time

you'll have. Romantic honeymoons on the beach won't be nearly as fun during

a rainy season, and a honeymoon vacation to a mountain cabin during the winter

may not be the best idea, either.

Decide on a spot and book tickets.

Once you've picked honeymoon suites or

figured out a honeymoon vacation that fits your budget and the season, it's

time to purchase tickets, reserve honeymoon hotels and plan transportation costs.

Romantic honeymoons are even more special when most of the major details are

planned and you don't have to worry about last-minute costs.

Plan activities and short trips for the honeymoon.

Once you have your

honeymoon suites and honeymoon hotels in the bag, you'll want to plan

other activities, too.

Pack your bags.

To ensure the best honeymoon, be sure to pack the right clothing,

accessories and gear for your destination. Make sure you have a passport or

that it is current if you'll be traveling out of the country.

Don't forget to pack a digital camera or video camera so you

can shoot incredible pictures while you're there. Getting proper

vaccinations and medications is also important if you're traveling to

certain regions, such as Africa or Central America.

Create the best honeymoon for both of you by setting aside a bit of

extra cash for souvenirs and special mementos.